Jordan Road Ferry Bus Terminus
佐敦道碼頭巴士總站 (1933 - 2003)
---
Jordan Road Ferry Concourse. (1986/10/05)
---
With its operations started since 1933, Jordan Road Ferry bus terminus was one of the largest and oldest bus termini in Hong Kong. Before its closure on 22 February 2003, there were 14 bus routes using the terminus.

The adjacent ferry pier also started its operations in 1933. Due to the West Kowloon Reclamation project, the pier was relocated to a temporary one in 1996, and was demolished subsequently. In 1998, the ferry service was officially terminated. However, the name of the bus terminus, "Jordan Road Ferry", remained unchanged.

Starting from 23 February 2003, Jordan Road Ferry bus terminus was replaced by a nearby Jordan (Wui Cheung Road) bus terminus. The site has now become the Austin Station of the MTR West Rail Line, as well as private housing estates "The Austin" and "Grand Austin".

This page contains information on routes terminating Jordan Road Ferry. Photographs of buses taken at this terminus are also provided.
---
---
Movements in routes using Jordan Road Ferry 1989-2003
Route(s)
Date
Event
3C, 12 and 14
1989/12/10
Destination moved to China Ferry Terminal
95
1990/04/01
Route restructured from 95K (Tsui Lam - KCR Mongkok Station)
42A
1990/04/23
Route introduced
30
1991/10/02
Destination moved to Cheung Sha Wan
46
1991/10/03
Destination moved from Tai Kok Tsui Ferry
98D
1992/08/03
Route introduced
3E
1992/11/22
Route cancelled and restructured to become 203E
203E
1992/11/23
Route restructured from 3E
13
1995/05/07
Route cancelled and consolidated with 9
98D
1995/11/05
Destination moved to Tsim Sha Tsui East
110
1996/01/21
Destination moved from Tsim Sha Tsui East
4A
1996/07/28
Route cancelled and consolidated with 2C
3
1996/11/10
Route cancelled and consolidated with 10
N68
1996/12/25
Route number changed from 68S
270A
1997/01/13
Route introduced
14X
1997/05/12
Route cancelled
63X
1998/05/26
Route introduced
69P and 69X
1998/05/26
Destination moved from Kowloon Station
11 and 203E
1998/06/22
Destination moved to MTR Kowloon Station
N68
1998/10/06
Destination moved to Tin Shui Wai Town Centre
296D
1998/10/23
Route introduced
8
1999/02/28
Destination moved to MTR Kowloon Station
270A
2000/07/30
Destination moved to MTR Kowloon Station
69P
2001/03/19
Route cancelled
-
2003/02/22
Last day of the terminus
---
Routes using Jordan Road Ferry (as at 22 February 2003)
(Click hyperlinks for photos)
---
36B 梨木樹
Lei Muk Shue
Volvo Super Olympian
3ASV459 (KU 871)
Date: 2002/11/06
---
42A 長亨
Cheung Hang
Leyland Olympian
S3BL468 (FY 8389)
Date: 1999/12/05
---
46 麗瑤
Lai Yiu
Leyland Fleetline
D1029 (BV 3658)
Date: 1994/04/09
---
60X 屯門市中心
Tuen Mun Central
Leyland Victory-2
G377 (CS 7320)
Date: 1988
---
63X 天慈
Tin Tsz
Leyland Olympian
S3BL206 (DT 3076)
Date: 1998/05/26
---
68X 元朗 (東)
Yuen Long (East)
Mercedes-Benz O305
ME23 (DG 2758)
Date: 1994/04/09
---
69X 天瑞
Tin Shui
Volvo Olympian
AV326 (HL 9881)
Date: 2003/02/16
---
70 上水
Sheung Shui
Dennis Dragon
S3N245 (ES 6049)
Date: 2002/11/06
---
70S 和合石
Wo Hop Shek
Leyland Olympian
S3BL146 (DN 7990)
Date: 1999/04/05
---
81 禾輋
Wo Che
Leyland Olympian
S3BL453 (FV 6099)
Date: 1999/10/31
---
95 翠林
Tsui Lam
Volvo Super Olympian
3ASV436 (KT 3034)
Date: 2002/11/06
---
296D 尚德
Sheung Tak
Volvo Olympian
AV101 (GL 3611)
Date: 1999/11/16
---
110 筲箕灣
Shau Kei Wan
Leyland Olympian (KMB)
AL38 (ET 7856)
Date: 1997/03/05

---
Leyland Victory-2 (CMB)
LV79 (CL 9613)
Date: 1997/02/25

---
Leyland Victory-2 (NWFB)
LV24 (CH 1603)
Date: 1999/11/18
---
N68 天水圍市中心
Tin Shui Wai Town Ctr
Dennis Dragon
3AD50 (HL 2102)
Date: 2000/02/05
---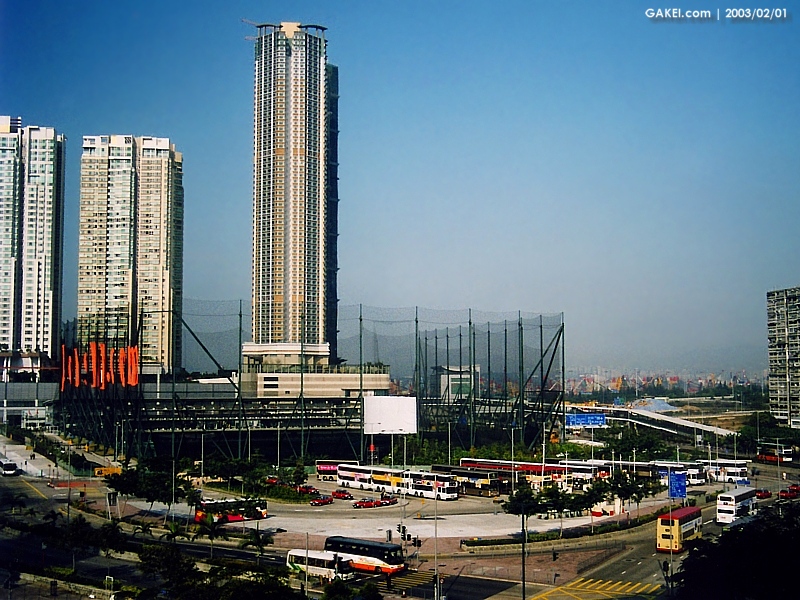 The bus terminus approaching to its last days of service. (2003/02/01)
---

An HKBEC Sub-page.